Reduce your single use plastic waste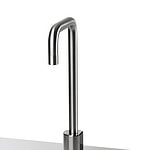 Instant and sparkling water tap
Product Info:
Say goodbye to boring office drinks and inject some fun into your mid-morning blues. What better way to get the juices flowing than with instantly refreshing and fizzy sparkling water?
The Ice bank technology ensures a constant flow of chilled still water, while the Flow Regulator takes your drinking experience up a gear with perfect bubbles every time.
Best of all, its chrome-finished stainless steel design is sure to be a showstopper in your office.
Aquacool Guarantee
Fully inclusive packages – no environmental fee or other hidden charges
Sanitisation & regular maintenance – to ensure the highest standards of hygiene for your machine
Next day delivery – with depo's nationwide we'll be with you in no time
GET YOUR FREE NO-OBLIGATION QUOTE
*We will be in touch straight away